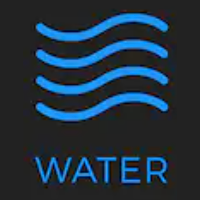 The element of Water is associated with the signs Cancer, Scorpio and Pisces, and it also rules the Fourth, Eighth and Twelfth Houses. Watery descriptiions are well suited to this element: fluid, flowing, wavering. These terms can easily apply to an individual's emotions - the realm where Water most powerfully exerts its influence. Water signs are intuitive and sensitive, and they feel more intensely than the rest. They are emotional and nurturing, and like a river, they run deep. How things feel is what matters to these folks, and they base their actions on sense, rather than on logic or intellect.
Water is also about compassion and understanding, since the receptive talents of these individuals are remarkably high. Water sign people can take in the feelings of others, process them, and put forth a plan or solution that will be conscientious to all. Water Signs Astrology Those graced by Water love to take their sense of the world and translate it into the artistic. They desire aesthetic beauty - and for everyone to be happy as a result of that beauty. Much like still water can become stagnant, however, an inactive Water sign person is not at their best. Water signs feel most fulfilled when they are helping others, and they do so in an enchanting, considerate and even romantic way. Water Signs Zodiac The flip side of this dreamy Water world is the tendency of these individuals to brood. Water signs are susceptible to mood swings, and at their worst, they could become self-indulgent, controlling and hostage to a fantasy world. This also brings up the ability of these folks to see things more clearly than others. Call it psychic, if you will. Water Signs are emotional, empathetic, receptive and feel things deeply. Alternately calm like the sea or possessing the force of torrential rain, the emotions brought forth by this element are plentiful, indeed.
Cancer: June 22 - July 22 This Moon-ruled sign rules the home, family, motherhood, and children. It's also in charge of emotions, so expect any Cancer planet to operate "from its gut." Cancer specializes in instinct. It's cardinal water — good at emotional beginnings and keeping private. But the world is a scary place to Cancer planets — they're emotionally vulnerable, sensitive, and easily hurt. Cancer planets often long for their safe nests. Because they love with the energy of the Moon, Cancer planets say "I love you" by tending to your needs for food, warmth, or a place to sleep. They offer the very best hugs in the zodiac. The problem with Cancer planets is that they often become needy or unable to function unless they feel someone or something is dependent on them. They are moody, but it's their job to be — they're Moon-ruled.
Scorpio: October 24 - November 22 Water signs are gifted by being able to sense. Cancer uses its instinct, and Pisces uses its intuition. However, Scorpio operates on its perceptive abilities. Planets in this sign are detectives, experts at the delicate art of strategy. Your Scorpio planets sift through every situation for subtle clues, which they analyze carefully to determine what's really going on. Because they're good at spotting clues, they're also gifted at sending equally subtle signals back into the environment, and at imperceptibly altering a situation by manipulating it with the right word or movement. Scorpio planets are constantly searching for intimacy. They want the real stuff from all encounters. No lighthearted Libra chit-chat — they want to bare their souls. They seek out intensity and crises. They can be relentless, obsessive, and jealous — remember that this is fixed water energy, so Scorpio feels things deeply and forever. Give your Scorpio planets what they crave: the opportunity to walk fire and to experience life-and-death situations. They're wells of limitless energy.
Pisces: February 19 - March 20 Pour a glass of water onto a table, and you'll see how mutable water flows into every comer. With no walls to contain it, Pisces, like this water, bonds itself emotionally to whatever is exposed. This is the source of Pisces' well-deserved reputation for compassion. It is also the source of a tendency to escape reality. Planets in this sign are ultra sensitive, feeling anything and everything. They're psychic sponges that often need time alone to unload and reassemble themselves. Exposure to others, especially crowds, is exhausting to your Pisces planet. It's in this sign that you may find a tendency to take in stray people and animals, but also where you'll need to watch for the possibility of being victimized or taken advantage of in some way. Pisces planets are not known for their realistic view of the world — they see the best in any person or situation — but when reality steps in they sometimes can be disappointed- These planets are the romantics of the zodiac. Let them dream in healthy ways.